The Berkeley Food Network provides an essential service and will continue to operate during this time of growing need. We are working hard to ensure that everyone in our community who needs it has consistent and safe access to food. Throughout 2021 we have continued to serve heavy bags of healthy groceries, providing food to 6,500 individuals a week.
On-Site Pantry Hours and Updates:
Please note we have new hours in 2023! Our on-site pantry is open to all Albany and Berkeley residents in need of food. Pantry visitors are able to select their own groceries in a COVID-19 safe setting. We are located at 1925 Ninth St., Berkeley. Please enter from the parking lot side of the building.
Revised Pantry Hours- New for 2023
Tuesday & Thursday: 11am – 3pm, 5pm – 7pm
Saturday: 10am – 12noon
Office & Warehouse Hours
Monday – Friday: 8:30am – 4:30pm
*Please note that we will be closed on the following dates:
Monday, January 16, 2023, for Martin Luther King, Jr. Day
Monday, February 20, 2023, for Presidents' Day
Friday, March 31, 2023, for Cesar Chavez Day
Monday, May 29, 2023, for Memorial Day
Monday, June 19, 2023, for Juneteenth National Independence Day
Tuesday, July 4, 2023, for Independence Day
Monday, September 4, 2023, for Labor Day
Monday, October 9, 2023, for Indigenous People's Day
Friday, November 10, 2023, for Veterans' Day
November 22 – 26, 2023, for Thanksgiving
December 23, 2023 – January 1, 2024, for Winter Holidays (re-opening January 2, 2024)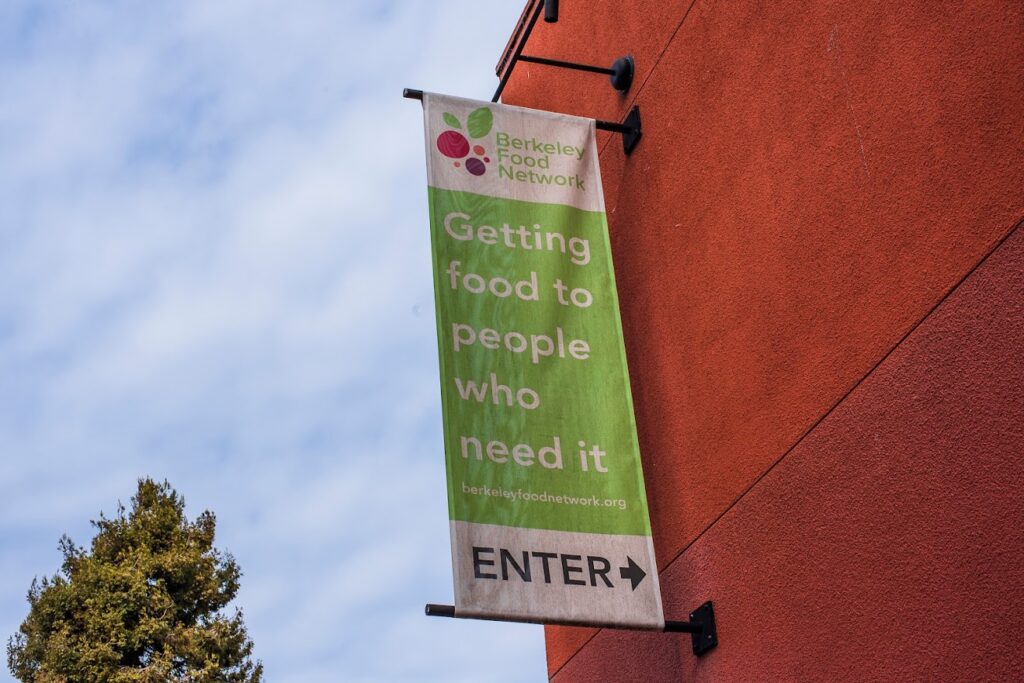 Off-Site Public Mobile Pantry Hours
BAS Pantry
The mobile pantry at Berkeley Adult School is now open to the public, serving the North Berkeley area.
Location: 1701 San Pablo Avenue (btw Virginia & Francisco), at the Main Entrance
Hours: Every 2nd Wednesday of the month, 11:30 am – 12:30 pm
BTA Pantry
The mobile pantry at the Berkeley Technology Academy remains open to serve the South Berkeley area.
Location: 2701 Martin Luther King Jr Way (at Derby)
Hours: 2nd and 4th Tuesdays of the month, 2:30 – 4pm
BHS Pantry
The mobile pantry at Berkeley High School remains open to serve the Central Berkeley area.
Location: 2200 block of MLK (at Bancroft), at the gate between the athletic fields and Building G
Hours: 1st and 3rd Tuesdays of the month, 4:00 – 5:00 pm
AHS Pantry
The mobile pantry at Albany High School remains open to serve the Albany area.
Location: 603 Key Route Boulevard, in the Cafeteria
Hours: 1st and 3rd Fridays of the month, 1:30 – 2:30 pm
COVID-19 Policies / Updates
Safety Protocols
We are practicing World Health Organization (WHO)-advised measures to ensure the health and safety of all our program participants, volunteers, and staff by:
Requiring staff and volunteers to self-screen for COVID-19 symptoms and stay home if they are ill.
Serving pantry visitors outdoors when and where possible.
Mandating regular hand washing.
Disinfecting all surfaces on a regular schedule.
Keeping all touching to a minimum.
Last updated:
Please check this page regularly for updates.