"Hey, how are you?" His voice carries over across the warehouse floor. Hair tied back in a ponytail, signature turquoise glasses, and movements buzzing with energy, he is always welcoming with an infectious smile.    
Jackson Hardamon, Warehouse Manager at Berkeley Food network, started at the non-profit in late November in 2019. He quickly became a staff, volunteer, and customer favorite in the short span he has been here.
Jackson wears many hats at BFN. He is responsible for managing day-to-day operations in the warehouse and at the on-site pantry, including the first and third Saturday of every month, and on boarding and training new volunteers for the pantry and grocery bag packing. Hardamon also ensures that the BFN warehouse is kept clean, well-stocked, and in good repair and helps to run our on-site and mobile pantries.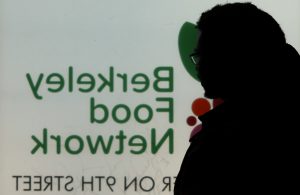 His dedication to ending hunger and creating a strong community is palpable. Hardamon's interactions with customers are genuine and full of care. One of the reasons for this is his own history of food insecurity. Growing up, Jackson and his mother relied on food stamps to feed the family. 
Known today as the Supplemental Nutrition Assistance Program (SNAP), the federal project aims at providing food benefits to low-income families. To qualify for assistance, households must meet certain requirements, such as a particular bank balance, to qualify. The aid is disbursed in the form of an electronic card, which can be swiped as a regular debit card in authorized food stores.   
Hardamon shared how those benefits, while they help support food purchasing, don't cover the monthly cost for food, requiring recipients to find additional funding to cover the difference. 
A report produced by the U.S. Department of Agriculture estimates that households use up roughly three-fourths of their benefits by the middle of the month. Revealing a systemic problem, a 2014 study found that 32 percent of all families receiving SNAP benefits also visited a food pantry in a month. 
"Generally, we believe that people aren't going to go to pantries if they don't need the food," Alisha Coleman-Jensen, an economist at the USDA's Economic Research Service and a specialist in food insecurity, told NPR. "I think you can read into [the new data] that SNAP benefits aren't going far enough to cover all of their food expenses."
Another report concluded that although SNAP helps relieve some of the financial burden associated with food purchasing, it does not alleviate the struggle entirely. It went to show that 45 percent of beneficiaries had to skip meals to extend the benefits over 30 days. 
With COVID-19 cases on the rise every day, there are also fears of increased unemployment and lack of accessibility to healthy foods. An analysis of the U.S. Census Bureau data revealed that food insecurity has doubled over the last few months, affecting 23 percent of Americans. U.S. unemployment skyrocketed to over 14 percent in April compared to 3.9 percent in February. It is critical to note that Black families are experiencing food insecurity at higher rates than all other races, 36% compared to 18% white families. 
These numbers highlight just how essential food pantries like the Berkeley Food Network are. The non-profit played a major role in combating hunger, feeding over three times the number of people we usually serve–a jump to 20,000 in June, compared to the 6,500 in February.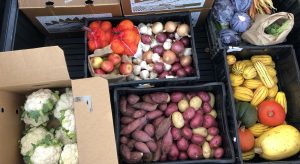 "BFN is extremely important," Hardamon emphasizes.  
Before COVID-19, Hardamon also worked for the City of Berkeley's Aging Services Division. In this role, he assisted with BFN's twice-monthly South Berkeley Senior Center Mobile Pantry distribution and Public Schools Grocery bag program. In addition to fighting hunger through BFN, Hardamon also serves as a union shop steward for the City of Berkeley. Hardamon is the former President of the Board of Directors of Youth Spirit Artworks and has previously worked for three non-profits. 
Watch Hardamon's interview here.