The Berkeley Food Network provides an essential service and will continue to operate during this time of growing need.
Last updated: Jan 4, 2021 @ 4:41 pm
Please check this page regularly for updates.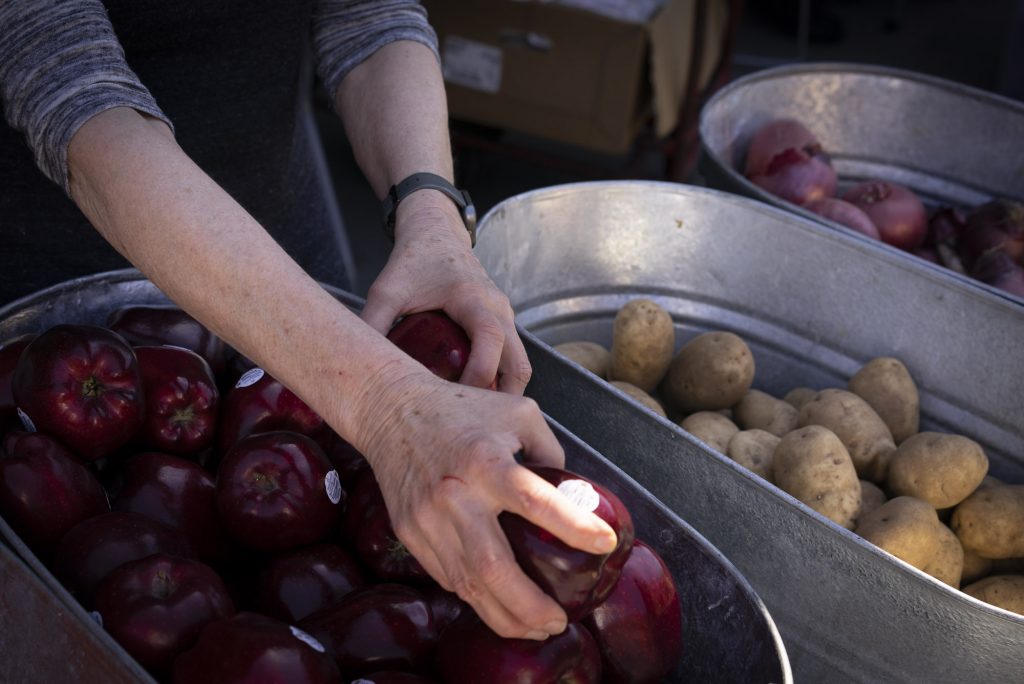 We are working hard to ensure that everyone in our community who needs it has consistent and safe access to food. During the month of November we continued to serve heavy bags of healthy groceries to nearly 5,000 individuals a week.
Please consider donating at this time to help support this important work. You can go to our donation page to make a secure tax-deductible donation.
You can also volunteer time at our warehouse, helping to unload food, pack bags, and assist at our on-site pantry. Be assured that we are following the strictest recommended safety protocols to protect the health of our volunteers, clients, and staff. Please go to our volunteer sign-up site to find volunteer time slots that work for you and to sign up.
Safety Protocols
We are practicing WHO-advised measures to ensure the health and safety of all our program participants, volunteers, and staff by:
Screening staff and volunteers for COVID-19 symptoms and asking them to stay home if they are ill.
Serving pantry visitors outdoors.
Maintaining six foot distancing between all people at our warehouse, pantry sites, and in our hub kitchen.
Mandating regular hand washing.
Disinfecting all surfaces on a regular schedule.
Keeping all touching to a minimum.
On-Site Pantry Hours and Updates:
Our on-site pantry is open to all Albany and Berkeley residents in need of food. Pantry visitors are able to select their own groceries in a COVID-19 safe setting.
We are located at 1925 Ninth St., Berkeley.
Please enter from the parking lot side of the building.
Hours:
Monday – Thursday: 10am – 2pm
Monday & Wednesday: 5 – 7pm (Beginning 1/11/21 our Monday and Wednesday winter evening hours will be 5-6:30 pm)
1st & 3rd Saturdays: 10am – 12pm
*Please note that we will be closed the following dates in 2021:
Monday, January 18 for Martin Luther King, Jr. Day
Monday, February 15 for Presidents' Day
Wednesday, March 31 for Cesar Chavez Day
Monday, May 31 for Memorial Day
Monday, July 5 for Independence Day
Monday, September 6 for Labor Day
Monday, October 11 for Indigenous Peoples Day
November 24-26 for Thanksgiving
December 23 – January 1 for the Winter Holiday
BTA Pantry
The mobile pantry at the Berkeley Technical Academy remains open to serve the South Berkeley area.
Location:
2701 Martin Luther King Jr Way
Hours:
2nd and 4th Tuesdays of the month, 2 – 4pm
Hub Kitchen Updates:
We are producing more meals than ever through our Hub Kitchen program, using over 20,000 lbs of excess food a month that comes to us from generous food business donors in our community.
Each week, we turn that excess recovered food into as many as 1,000 delicious and nutritious individually packaged and frozen meals for distribution at our on-site and mobile pantries.
Mobile Pantry Program
Pre-COVID-19, our Mobile and On-site Pantries were serving on average 1,600 individuals a week. Things have really changed!
We have increased the number of our mobile pantry distributions from 11 to 31 since the COVID-19 shelter-in-place order was put into place in March. We are providing many of our mobile pantry locations with regular deliveries of pre-packed bags of healthy groceries. We have been piloting a return to our pre-COVID client-choice farmer's market style pantry distribution outdoors at our on-site pantry and will be returning to that style of distribution – with COVID-19 safety protocols firmly in place – with several of our mobile pantry partners in November. We are providing University Village with enough food to distribute to 400 of their resident families weekly. We continue to provide 400 BUSD families and staff with twice-monthly bags of groceries, now available at the BUSD's free and reduced breakfast and lunch pickup sites. We served nearly 5,000 individuals a week during the month of November.